Product Description
In daily life, rooms with many electronic equipment such as computers should be equipped with ESD anti-static floor to take precautions. Among many anti-static flooring materials, anti-static pvc flooring has good performance stability.
Material composition: pvc resin, plasticizer, stabilizer, filler, conductive material and mixed color materials are scientifically proportioned and polymerized and molded.
Features:
a, beautiful appearance, can provide a variety of colors for users to choose
b, flexible, good foot feeling;
c. Wear-resistant, low dust generation, durable and flame retardant;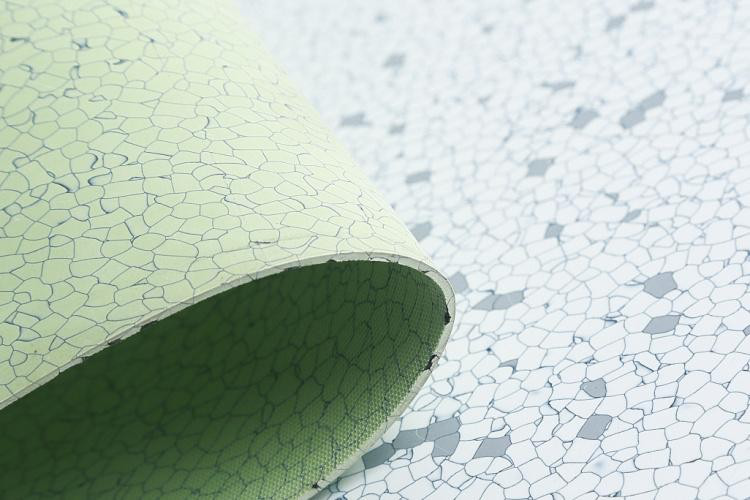 Requirements on the ground:
The ground should be flat and dry (the surface of the cement floor should be white), without obvious unevenness, and its surface unevenness should be less than
2/1000mm, can be terrazzo ground, wooden ground or 1:3 cement mortar smoothed ground.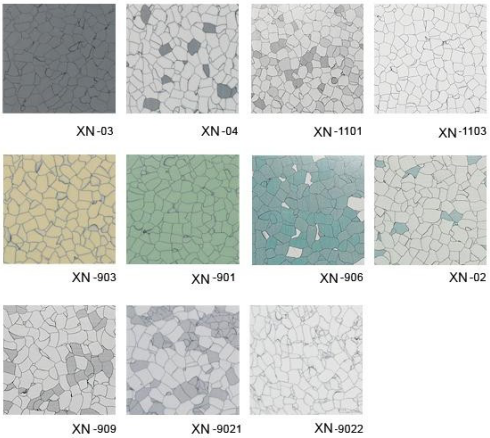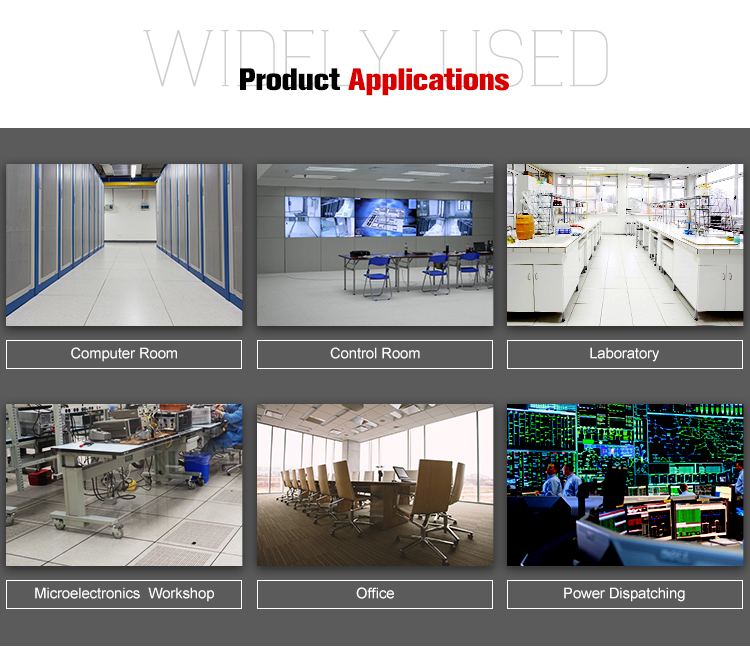 It is widely used in computer room, control room, laboratory, electronics classroom, microelectronics production and installation workshop and pipeline laying more centralized, where anti-static requirements exist, it can also be used in intelligent office buildings, banks, posts and telecommunications, power dispatching and other places.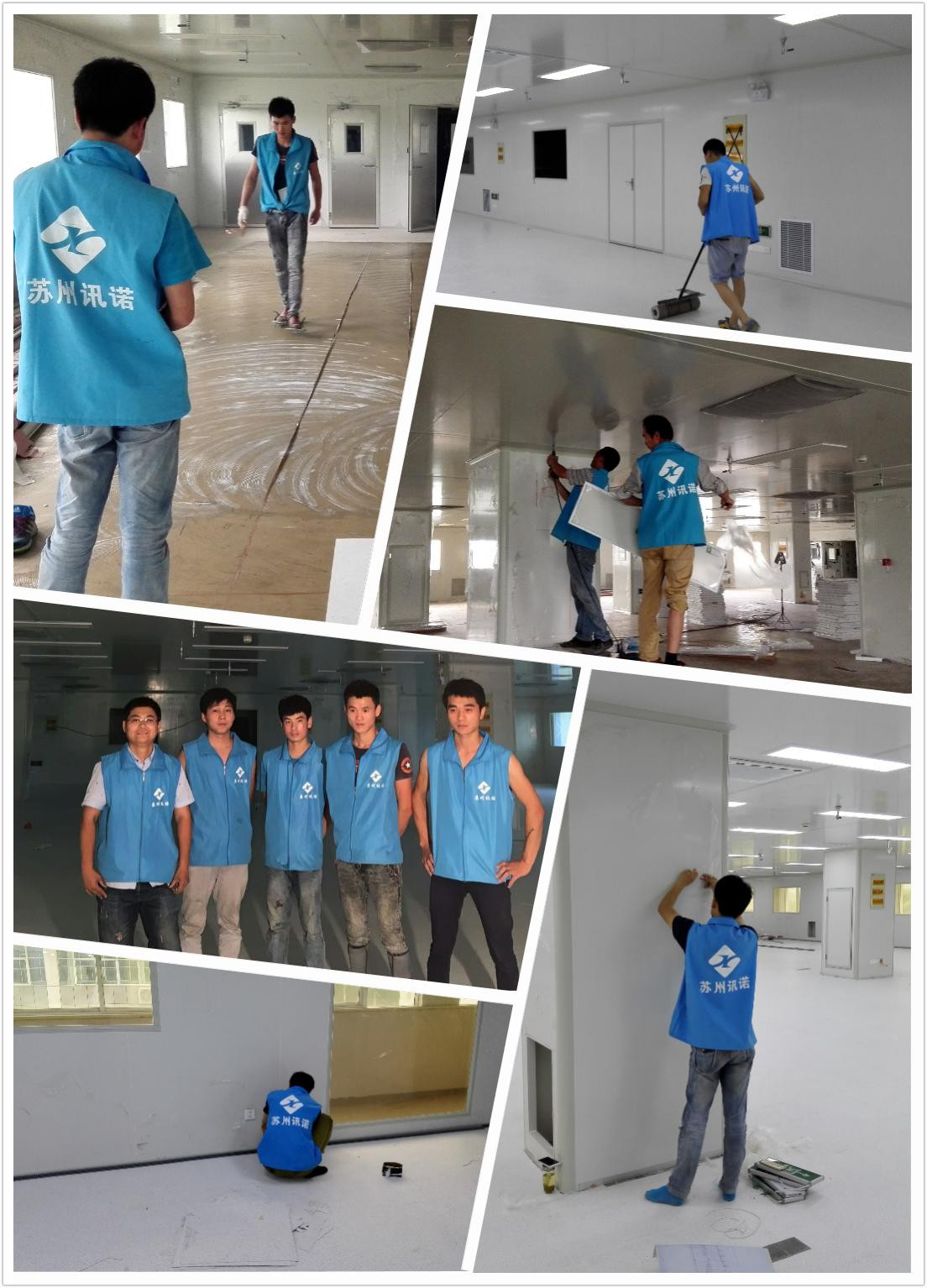 Construction materials:
a.
Floor, adopt anti-static semi-rigid polyvinyl chloride block plastic floor
;
b.
Conductive glue, resistance value should be less than 104Ω;
c.
Copper foil (or aluminum foil) thickness 0.01-0.05mm, width 20-40mm;
d.
Alcohol, industrial grade;
e. Welding rod, diameter 2-5mm.
Construction tools:
a. Scraper, used for coating conductive glue;
b. Rubber throwing head, used to hammer the plastic floor to make it fully adhere to the ground;
c. Megger, with a voltage of 100 volts, used to measure electrical conductivity;
d. Blade, used for cutting plastic floor;
e. Welding gun, used for welding floor.
Construction quality requirements:
A. The ground resistance of the floor surface should be 105-108Ω.
B. There is no bubble on the surface and no shelling phenomenon.
C. Weld and clean the gap after construction.
maintenance:
A. When placing objects on the floor, avoid heavy objects dragging on the floor. The contact surface should not be too small. If necessary, wooden block liners can be used.
B. When walking on the floor, do not wear shoes with metal nails, let alone scratch or knock on the floor with sharp or hard objects.
C. Often use a squeezed moist mop to mop the floor. Dirty places can be cleaned with alcohol and other solvents.
Main Specifications
Electrostatic conductivity SJ/T11236-2001 <1.0×106
Static dissipative SJ/T11236-2001 1.0×106-1.0×109
Heating length change rate GB4085-83 ≤0.4%
Water absorption length change rate GB4085-83 ≤0.4%
Residual concavity GB4085-83 ≤0.15mm
Abrasion amount GB4085-83 ≤0.02g/cm2 (1000 revolutions)
Combustion performance GB4609-84 FV-O <10s
Starting voltage SJ/T10694-1996 <100v
Static voltage decay period GJB2605-1996 5000-50V <2s
Corrosion and weak acid and weak alkali resistance
Main ingredients:
a. The conductive material is carbon black with stable performance, and the conductive network passes directly from the upper surface to the lower surface. This structure determines the permanence of the antistatic performance;
b. The base material is semi-rigid PVC plastic, which has the characteristics of wear resistance, corrosion resistance, non-fire and flame retardant;
C. The outer surface is like a marble pattern, the color is adjustable, the decoration effect is good and the construction is convenient.
Technical parameters and requirements of anti-static Pvc Sheet
No.

Item

Testing standard

Standard

1

Unit Weight

<4180g/㎡

SGS

2

Volume resistance/surface resistance

1.0E+04Ω~1.0E+06Ω,Acceptance standard: <1.0E+06Ω

IEC61340-5-1(5.5)/IEC61340-5-2

3

ROHS

Lead, cadmium, mercury, etc.,SGS pass

SGS

4

Limits of hazardous substances

No benzene,SGS pass

SGS

5

Static voltage discharge time

<2Sec

Federal TM 101C, Method 4046

6

Abrasion

<0.020g/cm2

SJ/T11236-2001

7

Wear resistance

P

EN660-2

8

Heating size change rate (hardness)

60±5/-Shore hardness D

ASTM D 2240

9

Flame spread index

<10Sec(FV-0 class)

ASTM E162/ASTM E84

10 

Smoke diffusion

Meet the first level requirements

ASTM E648

11

Frictional voltage

<100V

ANSI/ESD S97.2

12

Concavity (hardness)

<0.30mm(23℃)

ASTM D2240

13

Flexibility

1.0cm minimum radius will not break

CSA 126.2.100

14

Critical radiant flux

≥1.05w/cm2

ASTM E648/NFPA 253

15 

Physical specifications

Meets U.S. Federal Specifications

SS-T-312B

16

Corrosion resistant

Corrosion resistance to alcohol, acetone, gasoline, detergent, etc.

 

17

Appearance requirements

The surface is clean, the pattern is clear, the color is consistent, and the seams are tight and beautiful. The patterns and patterns of the joints are consistent, without glue marks; they are tightly connected with the wall, and the yin and yang corners are squarely closed;



Eternity International Trading Co., Ltd.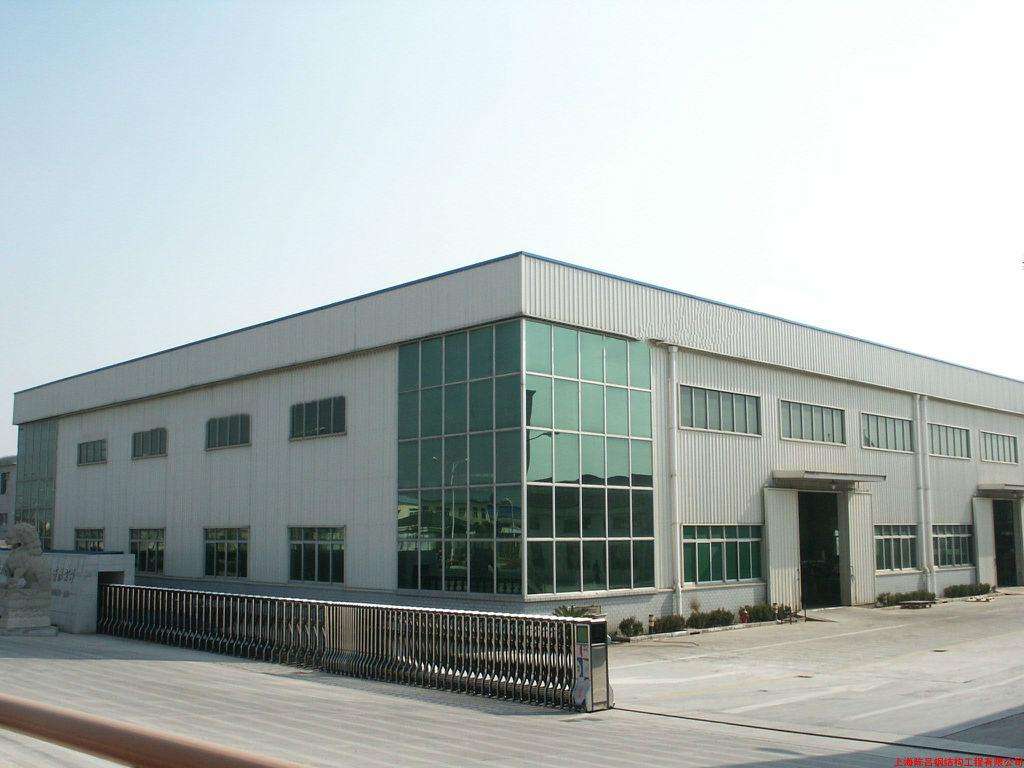 E-ternity, founded in 2017, is the world's leading supplier of Coconut Shell Activated Carbon.





We are committed to providing customers with quality products and services in harmony with the development of the environment.





The main products are Coconut Shell Activated Carbon, Flood Barrier, etc.



Company Name: Eternity International Trading Co., Ltd.
Representative: Louis Han
Product/Service: Coconut Shell Activated Carbon , Activated Carbon , Coconut Activated Carbon , Coconut Shell Charcoal , Flood Gate , Flood Barrier
Capital (Million US $): 9,000,000RMB
Year Established: 2017
Total Annual Sales Volume (Million US $): US$5 Million - US$10 Million
Export Percentage: 91% - 100%
Total Annual Purchase Volume (Million US $): Below US$1 Million
No. of Production Lines: 10
No. of R&D Staff: 11 -20 People
No. of QC Staff: 11 -20 People
OEM Services Provided: yes
Factory Size (Sq.meters): 1,000-3,000 square meters
Factory Location: 11 F No.9 Building,JunDi Center,3 Weihua Road,Suzhou Industrial Park
Contact Person: Ms. Vivian
Tel: 86-512-69162018